Junior Troop 1824 at a Build-A-Bear workshop in 2005.
---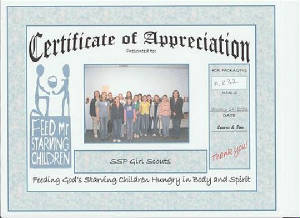 35 members of the SSP Service Unit went to Feed My Starving Children in Eagan. This a picture of the GNO- Girls Night Out group of 6th-12th graders. They had a great time, worked hard, and felt good when we went home. With our help, 11,232 meals will soon be bound for Central America. Many expressed a desire to do it again. GREAT JOB GIRL SCOUTS!
---
Troop 2553 working on their SPACE EXPLORER try it. These girls learned how to find the big dipper and other constellations. They even checked out the full moon we had this night. They are all looking forward to the star filled nights at encampment.





---

Here is a photo of Troop 279
with Santa Claus at Holidaze
in South St. Paul at Central
Square on 12/2/05.



---

Troop 419 at Camp Sagata -- They earned our Bronze Award by offering a "badge bust" for Brownies. Congratulations Girls!



---

Troop 419 photo with those who attended their "badge bust" Bronze Award Project at Camp Sagata.




---



Troop 279 at the 2005
Encampment at Camp Lakamaga.




---


Troop 1140 busy at work on
badges in front of the
dining hall at Lakamaga
Encampment 2005.
---
Here is Jr. Girl Scout troop 1159. Last December they had a Christmas Cookie Exchange. Each girl brought one recipe of
their favorite holiday cookie and then they baked them together. Each girl got to take home at least six different kinds of cookies. They had so much fun, they plan to do it again this December.
---
Here is a photo taken at Troop 1140's Bronze Award Camp at Rolling Ridges called the "Halloween Bash." Those who attended worked on crafts, went on a scavenger hunt, played games, and learned some new songs, and ate nutricious "scary" food. The
weather was fantastic and everyone had a GREAT time!
---


Terri, Wendy, and Cheryl after
the leader kick-off picnic
in August 2005.
---

Here is a photo of Troop 279 Bridging at the 2005 Ice Cream
Social. As they walked across the bridge, they were given their new Junior sashes! Congratulations girls!




---
Troop 1140 attended a council sponsored event at the University of Minnesota in Minneapolis hosted by the Society of Women Engineers (SWE) called, "The Sky is the Limit! They made "slime," flew paper airplanes, and con-structed lego models from the "looker" and "runner." They even made home-made vanilla ice cream, using liquid nitrogen as a "catalyst." Awesome experiments were done using lifesavers candy and soda pop. In this photo, they're displaying their "slime.
---



Here is troop 279 taking a group picture last year for their Community Service Project. They donated 2 cases of Girl Scout Cookies to the solders in Iraq. Way to go GIRLS!!!